PHYSICAL SECURITY
Trofholz designs, integrates, and supports comprehensive CCTV, Access Control, and Intrusion Detection. Our physical security solutions protect your assets. From simple to intricate, we  determine the most effective answer to your unique needs. We are a federal government contractor completing design-build projects across the nation. Located in Rocklin, CA we are a licensed California C-7 contractor that can meet Division 27 and Division 28 requirements. Our teams integrate security systems and protect IT assets. With this expertise, we truly understand the complexities of security technology integration.
With Trofholz You:
Protect Your People and Assets
Assess and Deter Threats Rapidly
Multiply Your Forces
Manage Risk Exposure
Improve Incident Analysis
Balance Accessibility with Security
Trofholz Delivers:
Security Assessments and Surveys
Access Control Systems
Intrusion Detection Systems
Video Surveillance/CCTV
PSIMs: Physical Security Information Management Systems
Structured Cabling
Force Protection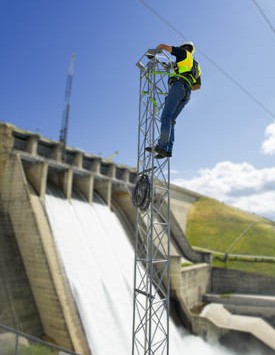 ---
Physical Security Assessments and Surveys
Our experienced personnel assess your facilities and help you understand the risks and vulnerabilities of your physical infrastructure. We identify primary criticality of assets, nature of threats, vulnerabilities. Following that, we address regulatory compliance, list assumptions, and provide the information you need to make an effective decision on security improvement plans. Our Site Surveys describe the site/facility, identify performance issues or operational limitations, and provide recommendations to implement. Using that information, our experienced personnel provide the appropriate technical information for your specific design and installation needs.
We Design, Integrate, & Support the following solutions:
Access Control Systems
We provide electronic Access Control Systems to manage all ingress and egress activities. We offer a variety of customized and scalable solutions with user-friendly interfaces. Our certified engineers and technicians have the demonstrated experience to properly design, install, and support your ACS. For our federal clients, we ensure the ACS is compliant with the Homeland Security Presidential Directive 12 (HSPD‐12). Our systems also meet FIPS Publication 201‐1 Personal Identify Verification (PIV) requirements.
FIPS-compliant, PC and IP based systems
Control of bases, campuses, and facilities
Systems for gates, turnstiles, doors, and other portals
Design, installation, and maintenance services
 Intrusion Detection Systems
We provide complete Intrusion Detection Systems designed to assess and deter threats rapidly and improve incident analysis. We deploy effective and reliable detection systems from very simple to extremely demanding environments.
Passive infrared and microwave
Radar and sonar
Smart fence, ported coaxial cable detection, seismic, and magnetic devices
Video Surveillance / CCTV
We offer complete CCTV video surveillance packages for all types of applications. We provide everything from a stand-alone system, to a completely integrated enterprise solution. Each system matches the particular environment.
Network and digital video recording systems
Analog, IP, thermal imagery, long-range and HD cameras
Comprehensive solutions include lighting, communications and support infrastructure.
PSIMs: Physical Security Information Management Systems
We integrate PSIM software solutions. This integration provides a platform to control to multiple security applications and devices through a single user interface. It also collects and correlates events from existing disparate security devices and information systems.  PSIMS connect video, access control, all types of sensors, analytics, networks, and building systems. Above all, doing this empowers personnel to identify and proactively resolve situations.
Event Management with GIS Visualization
Workflow Automation with Policy and Procedure Enforcement
Collects Information for Flexible Reporting
Structured Cabling
Communication and cabling installations build a strong foundation to secure your critical infrastructure. Our highly skilled team of practiced professionals take pride in our attention to detail and quality workmanship.
BICSI trained design engineers and installers
CAT5E, CAT6, and fiber optic cable installations
Complete CAD Documentation
Force Protection
To ensure the security of vulnerable facilities, we design physical access control structures to protect against potential threats. We provide the most effective force protection for the situation. This can include hardened doors, turnstiles, gates, fencing, high security locks. It may also include lighting systems, bollards, post and cable barriers, or crash-rated vehicle barriers.
Pre-fabricated buildings or hardened facilities
Room build-outs for existing facilities
Crash-rated vehicle barriers
Gates, hardened doors, fencing, and high security locks
Lighting systems, bollards, and post & cable barriers